What is a Good Poker Hand?
Every poker player wants to know what a good poker hand is, and we are here to answer that. The answer is simple, the best poker hand is Royal flush. This is because it features five consecutive hands of the same suit in order of value from 10 through to ace.
When you play poker online, this is the hand you most want to have. It's great because this means that your chances of winning are maximized. As beginner poker players, we know that you might be looking for the best way to make the most of your time when gambling online.
Do not despair because our team has compiled this guide to help you identify the poker-hand rankings from the strongest to the weakest. If this is the kind of information you are looking for, keep reading this guide.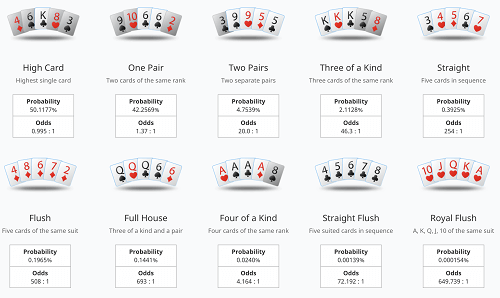 Poker Hand-Rankings Cheat Sheet
As we have already mentioned, we will share poker rankings. Not only that, but we will also share hand rankings cheat sheet that will help you get the most of your time when you gamble online.
When you play poker online, it is important to note that not all the games of poker decide the optimal hand based to the highest ranked hand. In most casino games, the best poker hands are governed by rankings in the poker hand in one of three ways. Below, let's take a look at the different types of poker hands:
Hi Hand Poker
Hi games are the most straightforward use of rankings. The games in this category have the best poker hand based on the hand that ranks highest on the hand chart. Hi games include titles such as Seven-Card Stud and Texas Hold 'em.
Lo, Low-hand Poker
In this category, there are games such as Razz. In these games, the hand rankings invert the regular poker-hand rankings to get the lowest-ranking hand. It is the optimal possible one. Depending on the game, you will find that the low hand poker game will have low or high and whether flushes and straights are counted.
Hi-lo or High-low Split Poker
A poker game like Omaha Hi-Lo. In this poker variation, the pot is divided between the player with the highest-ranking poker hand. In the same breath, you find that the lowest-ranking poker hand.