Best New Video Poker Games
New video poker games attract players and keep them. Video poker is a slot game merged with the traditional game of poker. Casinos introduce new games almost every day and this gives players an opportunity to try out new games consistently.
Video poker is no stranger to the industry. The games have been around for decades and due to innovations, came the introduction of new video poker games. Time has shown that this game is the best bet at a casino and moreover, the games have much higher odds compared to other casino games.
Basic Rules and Strategies of Online Video Poker
Originally, video Poker was referred to as Poker Slots. This is simply since the game is a combination slots and poker. Like the different versions of slot machines, video poker is played on an electronic screen. The difference is that instead of simple paylines, reels and rows video poker feature a poker hand.
To make the most of your time while playing the game, you will have to acquire some knowledge on the different poker hands. This will help you when you must choose which cards to discard or which ones to keep.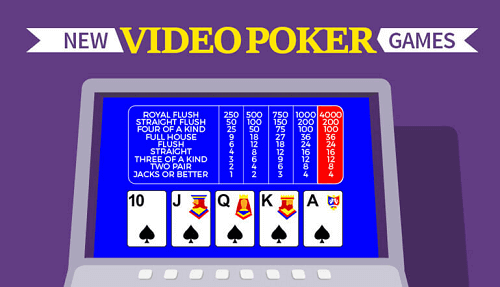 Different New Video Poker
A current trend is that traditional video poker games are being adapted to create new variations of the game. You can find new versions of poker that were not found in the past such as Flip and Play poker. This game has a nudge feature which means that you will be nudged down or up if you want to flip your hand into a winning one.
Depending on the poker game, you might qualify for bonus streak. Here players get a streak of multipliers. Below we list some of the newer titles:
All Aces: the payout for this version increase for specific hands. It is a variation of Jacks or Better.
Louisiana Double Poker: this version of video poker is a different gameplay from other games. It is developed by Microgaming.
Jackpot Deuces: in this game, players are required to create a Diamond royal flush. This is a progressive game.
Power Poker: this version has a number of multi hands that can go up to one hundred. It is the perfect for players who want to play multi-hand games.