What are Some Popular Bingo Patterns and Games?
There are a lot of bingo patterns that you can find when playing online. The game of bingo is quite straightforward to understand. It is basic, and all players need to do is match the numbers announced by the caller to their card. If you can mark off all the numbers in one line, two or a full house, then you are considered a winner.
Playing bingo online is similar to playing at a land-based casino. The only difference is that when you play at a land-based casino, you need to daub the numbers yourself using a special marker. In contrast, the process is automated when you play online. All you do is sit back and pay attention to the screen. In this guide, our team looks at the different bingo patterns you can find when playing online.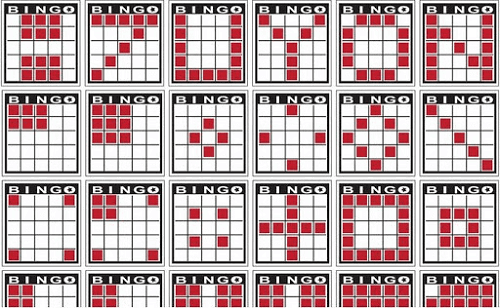 What Bingo Patterns can I Find?
As we have already mentioned, you can find different bingo patterns when you play online. These have some differences and similarities, and to make the most of your time when gambling you need to know them. Let's take a look at the different types of bingo patterns below:
Wild pattern: wild patterns are scattered patterns that may be anywhere on the card but in the same place.
The Coverall: this pattern requires players to cover all the numbers on the board to be regarded as a winner. It is also known as the 'Blackout' and comes with a jackpot.
Four corners pattern: in four corner pattern games, you are considered a winner when you get the numbers at the board's four corners.
Variable pattern: in this type of game, the variable patterns can be rotated in 90-degree increments.
Static pattern: this is the most popular type of bingo pattern. Players are considered winners when each cell is marked off on the bingo card. This pattern cannot be altered or changed.
Types of Popular Bingo Games
Let's take a look at the two most popular bingo games. Both variations are quite easy to play and have some similarities. Both 75 and 90 are available at the casinos we feature.
75 Ball Bingo Pattern
The 75-ball bingo pattern is one of the most popular, especially at casinos in the USA. This type of game uses twenty-five squares. Five of the squares go down while five are across, and each column has a bingo letter. With this version, up to 75 balls are called from 5 columns of fifteen balls. Each column corresponds with one of the bingo letters.
There are numbers on each square which range from 1 to 75. The first player to match the pattern on your card with the balls called out wins the game.
90 Ball Bingo Pattern
90-ball bingo is most popular in Australia and the United Kingdom. This version is played similar to other versions of bingo. All you need to do is mark off the numbers that have been called out. The winner is the player who completes the pattern. 90-ball bingo differs from 75-ball in that the cards have five squares, 9 columns and 3 rows. There are numbers listed from 1 to 90. Each game has three patterns, and all winning patterns are identical.